Aaron Hernandez seemingly "had it all" as a 23-year-old star tight-end for the New England Patriots, making millions of dollars per year on one of the winningest NFL franchises of recent years. Being paid millions to catch touchdown passes from Tom Brady? Yes… it's the kind of life many of us can only dream about.
So, if the recent allegations are true, how does someone who seems to be "living the dream" do something so violent as kill another person – an act that could cause him to lose everything? Was he raised in a rough community and perhaps learned he had to be aggressive or violent in order to survive? Could it be that it stemmed from the aggressive behavior that is often praised when playing contact sports like football? Or maybe it was something in his nature from the day he was born, pure and simple. For years, experts have been debating the nature vs. nurture question as relates to violent behavior, so I know I certainly don't have the answer. But I was curious about how others feel about the topic. Results of a recent VeraQuest omnibus study show that very few of us feel there's a clear-cut answer: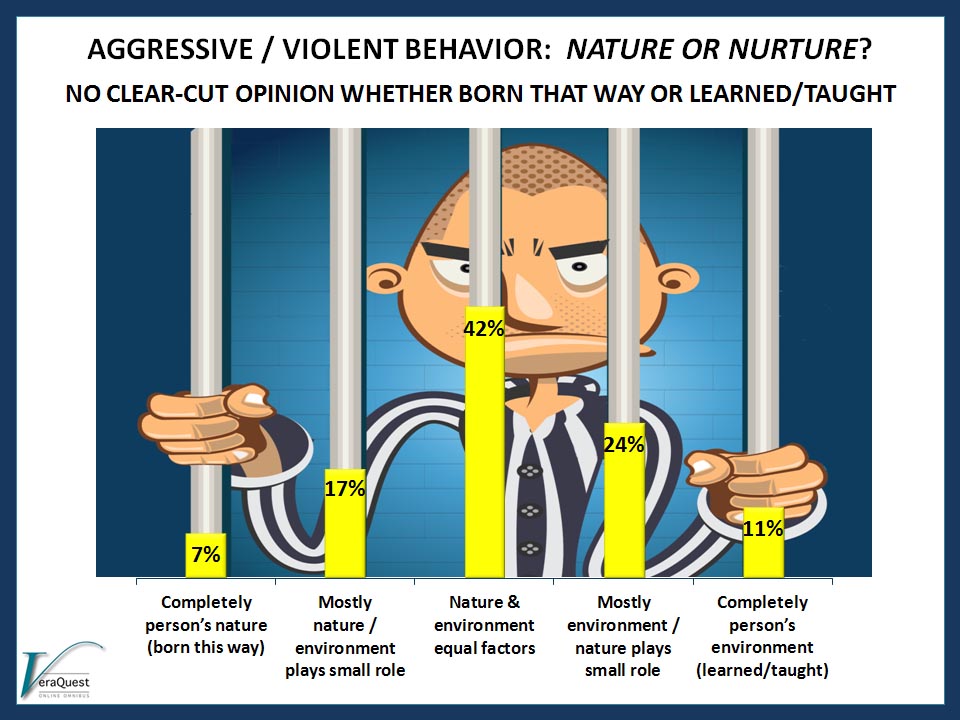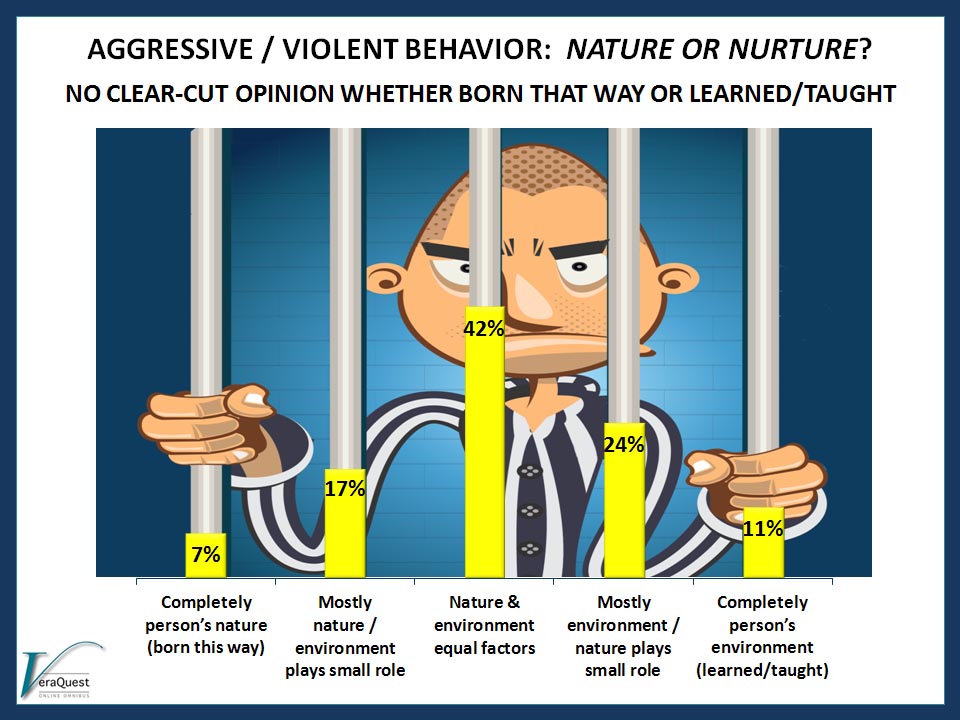 Only 7% believe aggressive/violent behavior is completely a product of one's nature – i.e., that they are born that way. And only 11% feel aggressive/violent behavior is solely a product of a person's environment – that it is a learned/taught behavior.
The remaining 82% feel that aggressive/violent behavior is the result of a combination of both a person's genetics and a person's environment. About half of this group (42%) feel that the two factors play equal roles, with the remaining Americans leaning closer to environment playing a larger role than a person's nature (24%). Somewhat fewer (17%) believe that while both are impactful, genetics plays a larger role than environment.
Younger Americans (especially 18-39 year olds), males, Hispanic and Black Americans, as well as those with children in the household, feel more strongly that genetics plays a larger role than environment, compared to older Americans (especially those 65+), females, Caucasians, and those living in childless households.
When probed about specific environmental factors, nearly all Americans indicate feeling that there are external factors – especially situations relating to one's home life, community, or school environment – that can cause or lead to aggressive/violent behavior in kids. In fact, 83% feel that living in a household with domestic violence can lead to such behavior. Additional external factors mentioned at higher levels are living in a violent neighborhood/community (73%), peer pressure from a child's aggressive/violent friends (72%), being bullied (67%), and attending a "rough" school (52%).
Somewhat fewer Americans – but still a notable amount – feel that living in an unstable/broken household (45%), playing violent video games (43%), or watching violent movies/TV shows (43%) cause or lead to aggressive/violent behavior in kids.
Listening to rap music (22%), listening to hard metal music (17%), and participating in contact sports (12%) do not resonate as much with U.S. adults, in terms of being potential causes of aggressive/violent behavior in kids.
Do you think that aggressive/violent behaviors, like those Aaron Hernandez is accused of, are a result of a person's environment – i.e., that these are learned/taught behaviors? What types of environmental factors do you feel could cause or lead to aggressive/violent behaviors in kids? Or is a person simply "born that way"?