Match.com, the first online dating service, was launched in 1995. Since then the number of online dating services have grown to accommodate every possible interest and need. Not only are there sites like Ashley Madison that cater to people who are already married but want a little something on the side, but ones like Bernie Singles, a dating site for people who share an interest in Bernie Sanders. I suppose this brings a whole new meaning to the slogan Feel the Bern.
From April 19 to April 21 of this year, VeraQuest asked a nationally representative audience of 3,000 Americans if they've ever used online dating services and if they did, what were their expectations and experiences.
Here's what we learned. Just over a fifth (21%) of Americans have used an online dating site, though unsurprisingly, for Millennials, who are most comfortable with living their lives online, the percentage is 30%. The most popular sites are Match.com (39%), Plenty Of Fish (35%) E-Harmony (25%) and OKCupid (24%). However, site popularity differs by age: Plenty Of Fish is favored by Millennials (36%), while Match.Com remains the top choice among Gen X and Baby Boomers at 44% and 48%, respectively.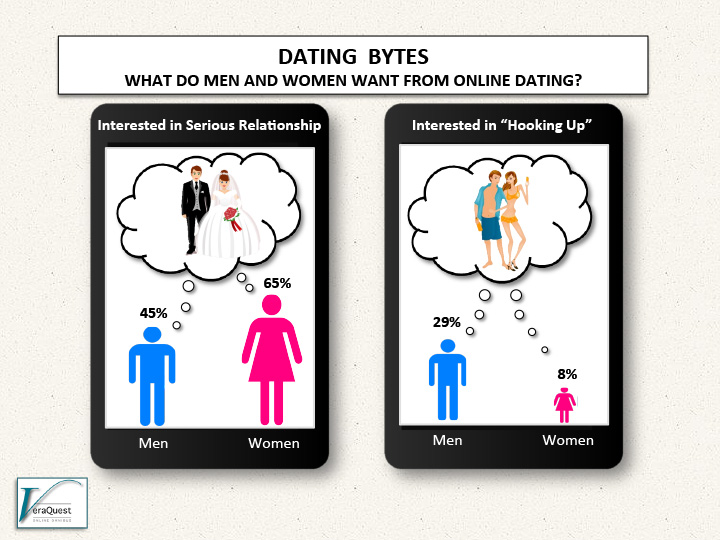 Those who used an online dating service were slightly more interested in finding serious relationships (54%) than ones that were casual (46%). That said, men will be men: only 45% of men actually want a serious relationship compared to 65% of women; moreover, 29% of men are primarily looking to "hook up" versus only 8% of women. At the end of the day, however, nether men nor women would appear particularly naïve about the motives behind many of the people who join online dating services. When asked what they thought the main goal is for the majority of people using online dating services, 38% of men said it was for hooking as did 34% of women. Safety was a concern to some respondents – less than half (45%) feel like online dating services are relatively safe; however, that number climbs to 65% among those who have actually used a dating site.
What do you think? Are online dating sites a good thing? Do you think they are safe? Would you consider using them yourself if you were single?