"If y'all need to use the restroom, don't wake me up…just climb over me." That's what I heard a guy telling his row-mates on a recent flight. He didn't know these people, and no, this guy wasn't "small" either. We all know how little leg room there is in coach…so how is someone going to "climb over" him? And, would the woman sitting in the window seat really feel comfortable doing that anyway? I just thought it to be such an odd request…and ballsy. It got me thinking about all the various unspoken courtesies on airplanes, and I couldn't help but wonder how American fliers feel about these things.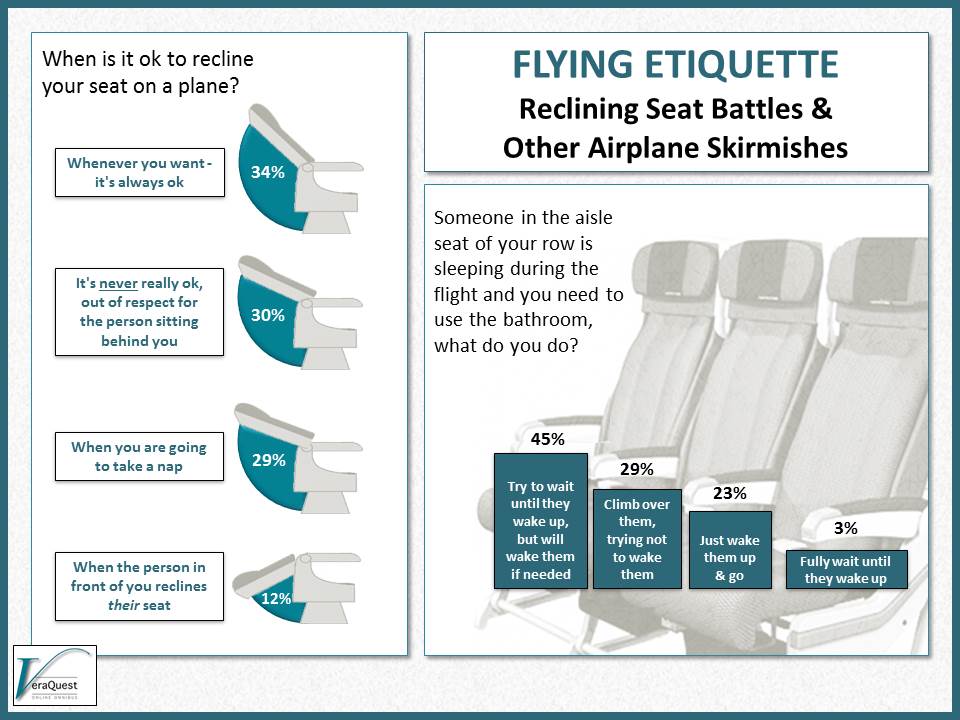 So on a recent VeraQuest omnibus survey we asked some questions among 992 Americans who fly at least yearly. First, I was of course curious how people tend to handle the sleeping row-mate situation, when you need to use the restroom. Almost one-quarter (23%) say they don't hesitate and "just wake him/her up and go". To my surprise, slightly more (29%) actually do what the guy on my flight suggested and "climb over him/her, trying not to wake them up". A much-larger 45% of fliers, however, put their own needs on hold and "try to wait" for the person to wake up, though eventually they will wake their sleeping row-mate up if they really need to. A tiny minority (3%) say they wouldn't wake someone up to go – they would fully wait for the person to wake up. Good luck to them.
We also asked our fliers who, in their opinion, should get the shared (middle seat) armrests. I think we've all had our share of "battles" for those armrests, conscious or not. Well, the majority (53%) feel – and I agree – that the unlucky person sitting in the middle seat should get the middle armrests. One-third (34%) believe that whoever "claims" the armrest with their arm first gets it until they move their arm, at which point it's fair game again. Let the chess match begin! The remaining 13% feel that whoever "claims" the armrest first should get it for the whole flight.
One of my own biggest pet peeves is when the person in front of me reclines their seat – especially when I've got my laptop open, trying to get some work done. (I swear, this happens every time I need to work on a flight.) So now I'm typing with my hands cramped in front of my chest, and my neck is at an awkward angle, trying to view the screen properly. Work or not, with as little room as there is on a flight, I personally would just never take away more of someone else's limited space by reclining my seat. I'm apparently in the minority though, because according to our survey, just under one-third (30%) agree that it's "never really ok to recline your seat, out of respect for the person sitting behind you". On the other hand, a full one-third (34%) feel you should recline your seat "whenever you want – it's always ok". And others feel there are specific occasions for which it's ok to recline – when you're going to take a nap (29%) and when the person in front of you reclines their seat (12%).
One of my favorite things to watch is when passengers are boarding the plane and taking their seats, because there are always a few who are trying to switch seats in order to sit with their travel companion. Hearing those requests and the ensuing conversations when someone declines to switch out of their prime aisle or window seat often make me chuckle. So in what type of scenario would fliers give up their preferred seat to sit in a less-desirable seat (when flying alone)? Well, just over three-quarters (76%) say that, if asked, they would switch seats so that a parent and child could sit together. Only about two-thirds (64%) would move if an elderly person asks to switch seats (which I find shockingly low). Only about half (51%) would switch seats so that a couple could sit together, and fewer (39%) would give up their preferred seat so that friends could sit together.
What other unspoken airplane courtesies can you think of? Do you feel that people are more courteous or less courteous on a plane, versus the outside world?