It's rare that I'm shocked by survey results on topics of public opinion. But when we asked 1,500 Americans whether they feel that the NFL's Washington Redskins should change their team name out of respect to Native Americans, I was truly surprised. Only about one-quarter (27%) of Americans feel the Redskins should change their name.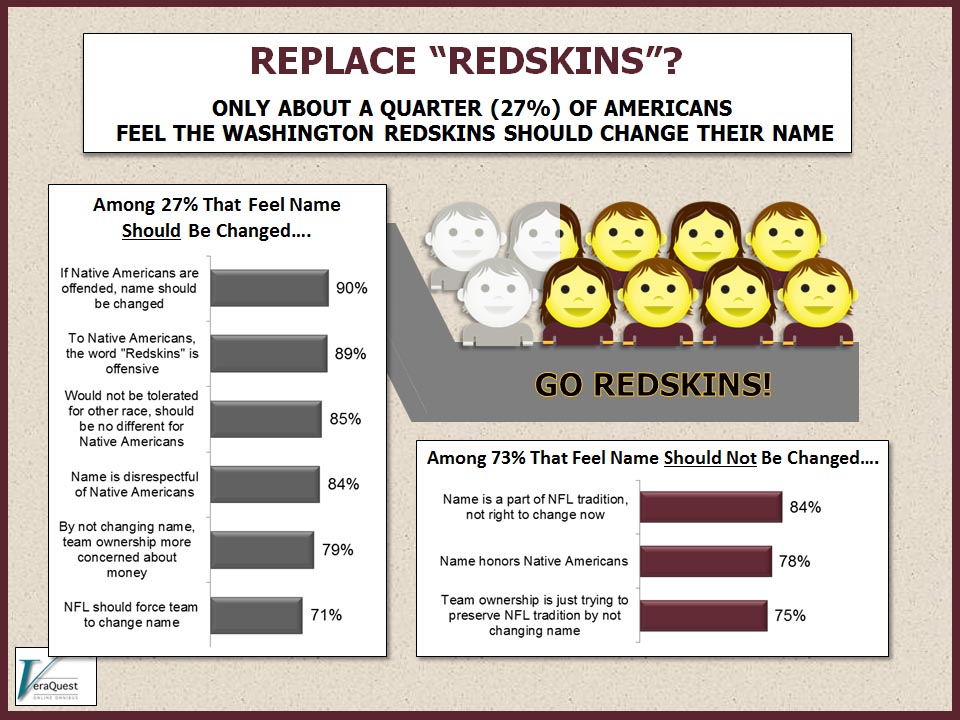 Perhaps even more surprising to me is that minorities feel the same way. Hispanics (33%) and Black/African-Americans (41%) are, in fact, more likely than Caucasians (23%) to feel the team should change their name out of respect to Native Americans; however, the majority of each of these ethnic groups ultimately feels that the name should not be changed.
Did Americans not hear about how, in May, 50 members of the U.S. Senate urged NFL Commissioner Roger Goodell to push for a name change, saying that the Redskins team name is a "racist slur"? Did they not see or hear about the very moving "Proud To Be" video (originally commissioned by the National Congress of American Indians) that ran as an anti-"Redskins" ad during the NBA Finals? Or just recently, when the Trademark Trial and Appeal Board – which is part of the U.S. Patent and Trademark Office – ruled that the Redskins name is "disparaging to Native Americans" and promptly cancelled the team's trademark registrations? Have Americans simply not been paying attention, or do they not care and consider sports tradition more important than doing the right thing? Some of both, it appears…
Of those who feel the Redskins team name should not be changed, 84% feel that the name is "part of NFL tradition, so it doesn't feel right to change the Redskins name now". More than three-quarters (78%) of this group also feel that the Redskins team name "honors Native Americans". Hard to think people believe that, when Native Americans themselves don't seem to feel that way. So I'm really hoping this is due to lack of awareness regarding Native Americans' feelings on the matter.
On the flip-side, of those who feel the Redskins name should be changed, 89% believe that the name is "offensive to Native Americans". Another 79% feel that by not changing the team name, team ownership is "more concerned about money than doing the right thing".
Interestingly, just over half of all Americans (52%) agree that, in general, "if a slang term for a different race were used for a sports team, it would not be tolerated, so it should be no different for Native Americans". And almost as many (48%) agree that "if Native Americans are offended by the Redskins name, it should be changed". What gets me about the latter is that the majority of Americans (52%) then disagree that the Redskins name should be changed if it offends Native Americans. How is that ok? I just don't think that sentiment would be the same if it were other races in this country that were being offended. Why should Native Americans be treated any differently? I guess it's not entirely a lack of awareness issue after all.
If a U.S. sports team name was offensive to Hispanics or to African-Americans, do you think it should/would be changed? The NBA took swift action when L.A. Clippers owner Donald Sterling made racist comments…how is an NFL team projecting racist imagery through its team name any different, in your opinion?