What would you do if you heard your boss make racist remarks? Perhaps the players for the NBA's Los Angeles Clippers didn't have too many options because of their contracts, plus the fact that the story broke during their playoff run for the NBA championship… but I have to wonder whether any of team owner Donald Sterling's administrative staff quit their jobs after hearing his racist comments in the leaked audio recordings or after he sparked further outrage during his interview with CNN's Anderson Cooper.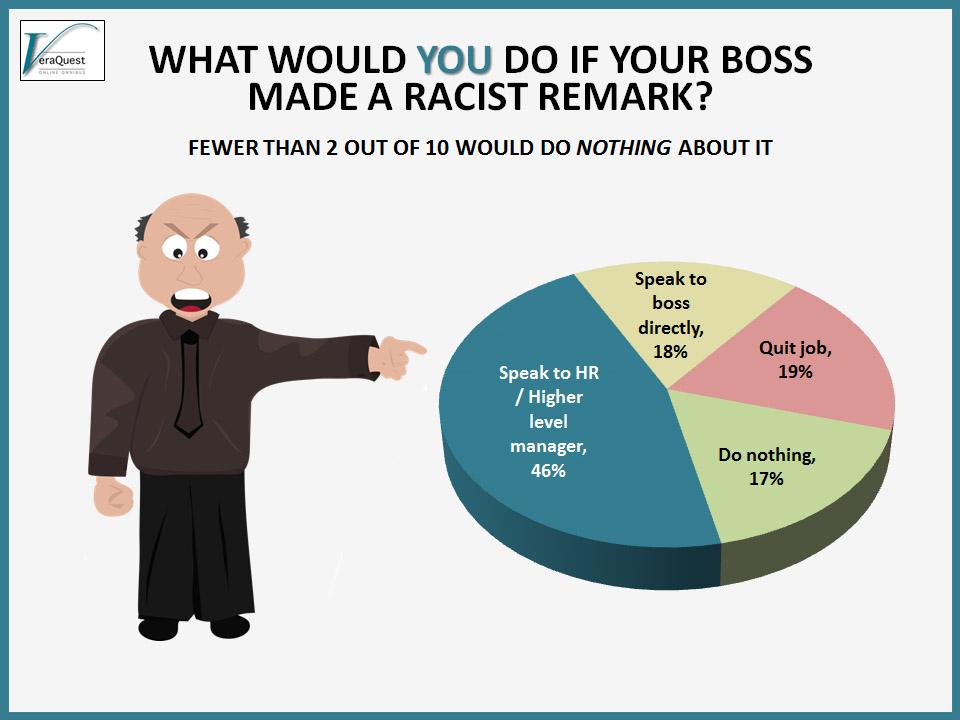 We recently asked 1,500 Americans what they would do if they were employed at a company and heard their boss make racist remarks. Although the top anticipated action among all three of the major U.S. ethnic groups is to report this type of situation to HR or a higher-level manager (46%-51%), we see that Hispanic (24%) and Black/African-American (28%) employees are much more likely than Caucasian (15%) employees to quit their jobs after overhearing a racist remark from their boss. Conversely, Caucasian (21%) employees are more likely than Hispanics (10%) and Black/African-Americans (7%) to say they would "do nothing".
Another interesting finding is that younger employees are far more likely than older employees to quit after overhearing their boss's racist remarks (31% of 18-29 year olds and 28% of 30-39 year olds say they would quit, compared to only 13% of 40-49, 10% of 50-64, and 13% of 65+ year olds). One has to wonder, though, whether the younger generations truly have stronger morals and/or a stronger impetus to "take a stand", or whether older employees simply have more to worry about with families, job security, pensions, etc., which makes quitting their job a larger risk for them.
Regardless, I was glad to see that the vast majority of Americans (83%) would do something if they overheard their boss make racist remarks, instead of ignoring it, which makes it seem like it's ok. And we'll see what happens within the NBA. Last I saw, there will be a vote among NBA owners in early June that will determine whether the league will force Sterling to sell the team. As added pressure on the owners, LeBron James of the NBA's Miami Heat and other NBA players have already spoken out through the NBA Players Association to say that if Donald Sterling is still the owner of the L.A. Clippers next season, they will not play. Wow. A player boycott is certainly taking a stand.
If you had a boss who made racist comments, at what point might you consider quitting your job? Would you consider working at a company for a lot more money, if it meant working directly for someone you know to be racist?